Ryde Building Improvement Grants
Guidance for property owners/tenants on the grant scheme and requirements for submitting an Expression of Interest
As part of the High Street Heritage Action Zone (HAZ) programme we can provide funding towards the costs of works to improve commercial frontages in a way that enhances the town centre conservation area. We can also provide support towards the costs of bringing unused spaces (such as empty upper floors) into use.
Funding is only available for eligible properties located within the Ryde Heritage Action zone from St. Thomas Square, up through the pedestrian zone at Garfield Road to Star Street, and to include the High Street section to the traffic lights at St. John's Road. See map below: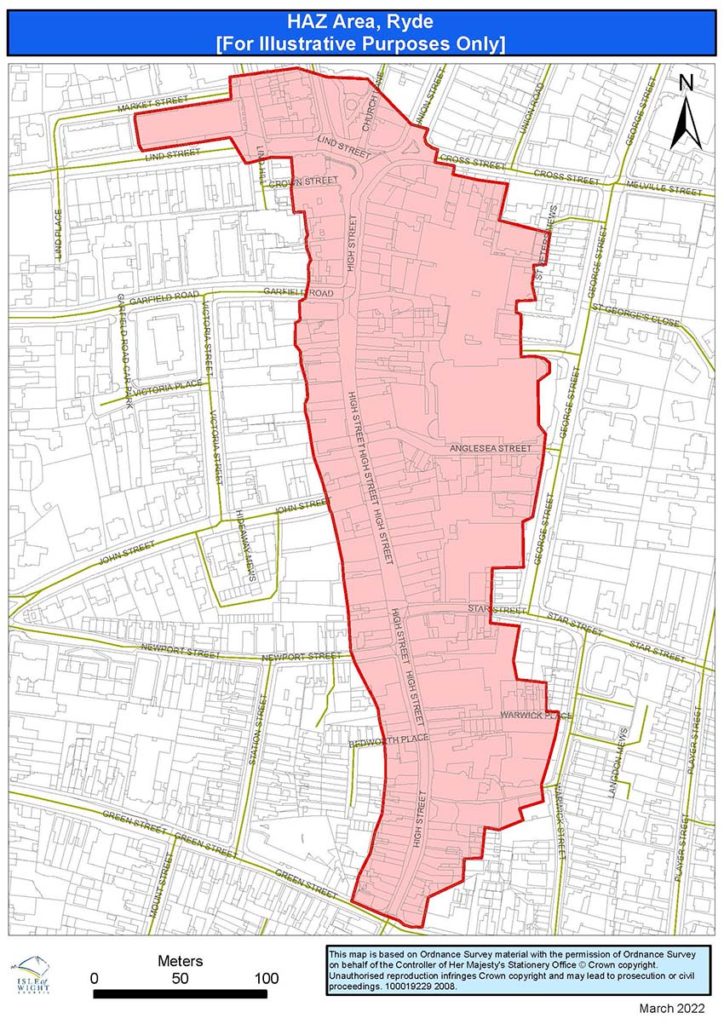 Funding is limited and will be targeted at properties which enable the greatest overall impact for the investment. The grant programme does not have a competitive bidding process, instead we have a rolling programme of assessment of potential buildings to grant aid. As part of this process we welcome expressions of interest from property owners/tenants/managers who would like to participate in this scheme.
If you submit an expression of interest (EOI) it will undergo initial eligibility assessment. If it is potentially eligible, you will be contacted by the project manager to discuss your property further. Additional information may be required at this stage. We will use this information to identify the most suitable properties to prioritise for investment. Funding is available over several years, and if an eligible property is not selected for early investment it will remain under consideration for later funding periods.
There are several prerequisites for buildings to be eligible for grant support and we would recommend you only submit an EOI if you are able to meet all of these:
The application must come from whoever has repairing responsibility for the building.
The applicant must either own the freehold or a lease of at least 3 years.
The property must be within the Ryde HAZ core investment area (as above)
Proposed works must enhance the conservation area
Applicants must be able to demonstrate their commitment to ongoing maintenance and repair of the property to a high standard after works are completed.
Grants are designed to support improvements for owners/occupiers with an ongoing commitment to their building and the town. Grants must be repaid if the building is sold within 3 years of completion of works
Additional grant funding requirements will need to be met, details of these will be provided ahead of agreement in principle to proceed with work on a particular building. Grants will be subject to government regulations on subsidy which replace state aid rules.
Grant funding will cover up to 80% of eligible costs (include relevant professional fees) for frontage improvements and 20% of work to bring unused floors back into use.
To submit an expression of interest, please complete the form below.
If you are uncertain about any aspect of the process or your potential project, please feel free to contact us before submitting an EOI.