Ryde youngsters have a growing passion
We are really pleased that young people from Ryde have been getting involved in the Heritage Action Zone projects – and we will have a group of 15 young people helping us to draw up plans to transform St Thomas church for community use.
We think it is important for young people to have their say as they are our future adults.
Before we signed on the dotted line, we took a group of young people to see the church to see if they could imagine it as a space they would like to come to. Luckily they could see the potential and they were pleased to see that we could include things like a secure space for their bikes. Our present premises at 147 are great but we have outgrown the space and our plans for St Thomas church mean we will have a proper kitchen and the ability to open in the evening.
Young people often complain there is nowhere for them to go – we would be offering a safe place with access to our youth workers – and a pool table (an idea which seems really popular with our young people). Being a Grade 2 listed building we have to be aware of the heritage of the church and we want to incorporate the history of the building into a usable space for the community. As a result of the lockdowns we have seen more young people sharing with us the anxiety they feel as a result of exam assessments and the pressure they feel to catch-up if they have fallen behind on certain subjects.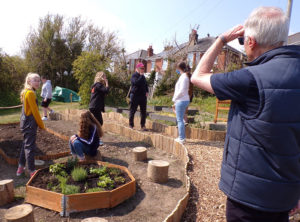 A really positive project for us through the lockdowns has been our allotment. It meant we could continue to meet with young people and they could help us prepare the allotment. Being able to grow vegetables and spending time in the open air is great for our young people and the project really seems to have captured the imagination of people in Ryde. With our new facilities in St Thomas church, we are looking forward to cooking with the produce we have grown so our young people can see the journey from the ground to their plate.
It was difficult during the lockdowns as we were restricted in the number of young people who could come into 147. Those who did visit us, were pleased to get involved in a couple of arts projects that happened as a result of the Heritage Action Zone. Last summer they worked with artists Theresa and Sarah to explore the life of Charles Dimmick, who used to run his nursery business from our premises. It was great to see the young people working with the artists to research Charles Dimmick and the sort of plants he grew – he even grew plants for Queen Victoria at Osborne House, apparently. One of the young people who took part in the project said she was so grateful to be involved as otherwise she wouldn't have seen anybody else but her family through the summer holidays. The artwork they made was sold at the Victorian Flower Market and raised £360 – money we spent on plants and equipment for the allotment.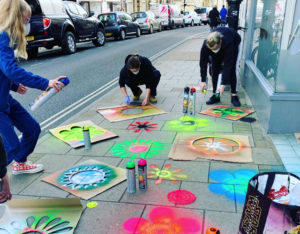 We also got involved in the spring windows project and the flowers which were spray-painted on the floors and outside 147 on the pavement have brought so many compliments. Looking ahead we are really excited to support what is happening in the Heritage Action Zone – and we are so looking forward to making our new home at St Thomas church.