The Ryde Society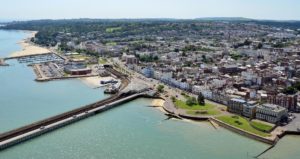 The Ryde Society is a Civic Society and is a member of Civic Voice, a National umbrella organisation with 76,000 members which works with societies like ours right across the UK. We are a voluntary group who campaign for high standards of planning, whether for new buildings or for traffic schemes or for the conservation of our historic buildings.
Encouraging good design everywhere in Ryde is at the heart of our campaign. This ranges from the Internationally protected Ramsar site that is our beach to the 400+ listed buildings in the town. We also campaign specifically to plant trees and flower beds in the town and to increase and soften our green spaces. Our built environment and our natural environment belong together. Both should be protected and enhanced for the long-term benefit of our community.
Ryde should be renewed, regenerated and cared for, and we should end the scandal of left-behind places, where derelict buildings and vandalised public spaces drive people away. New developments should be regenerative, enhancing their environment and adding to the health, sustainability and biodiversity of our town.
Anyone who lives or works in Ryde can become a member of The Ryde Society and we welcome volunteers to be part of our campaigns to shape the future of Ryde. You can contact us via our website – The Ryde Society. We look forward to hearing from you.